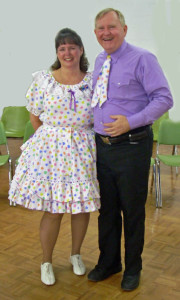 Hanger Squares is fortunate to enjoy the services of Garland Smith as our Caller and Class Instructor.   Garland became our fourth permanent club caller in October of 2009.   He began his first assignment as our class instructor in January of 2010.  Garland and his wife, Jean, can be seen in the picture on the left.
Garland Smith was distingished with the Houston Square and Round Dance Council's Caller and Cuer of the Year award in 2008 and again in 2013.
We invite everyone to dance with us on Saturday nights and experience Garland's warm and friendly style.